Each year, in recognition of National Missing Children's Day, the Nebraska Attorney General's Office invites 5th graders from across the state to participate in a poster competition. The winner of the state competition will be submitted to a national competition with the U.S. Department of Justice. This event allows young students from across the United States opportunity to creatively express the theme, "Bring Our Missing Children Home."
1st Place Winner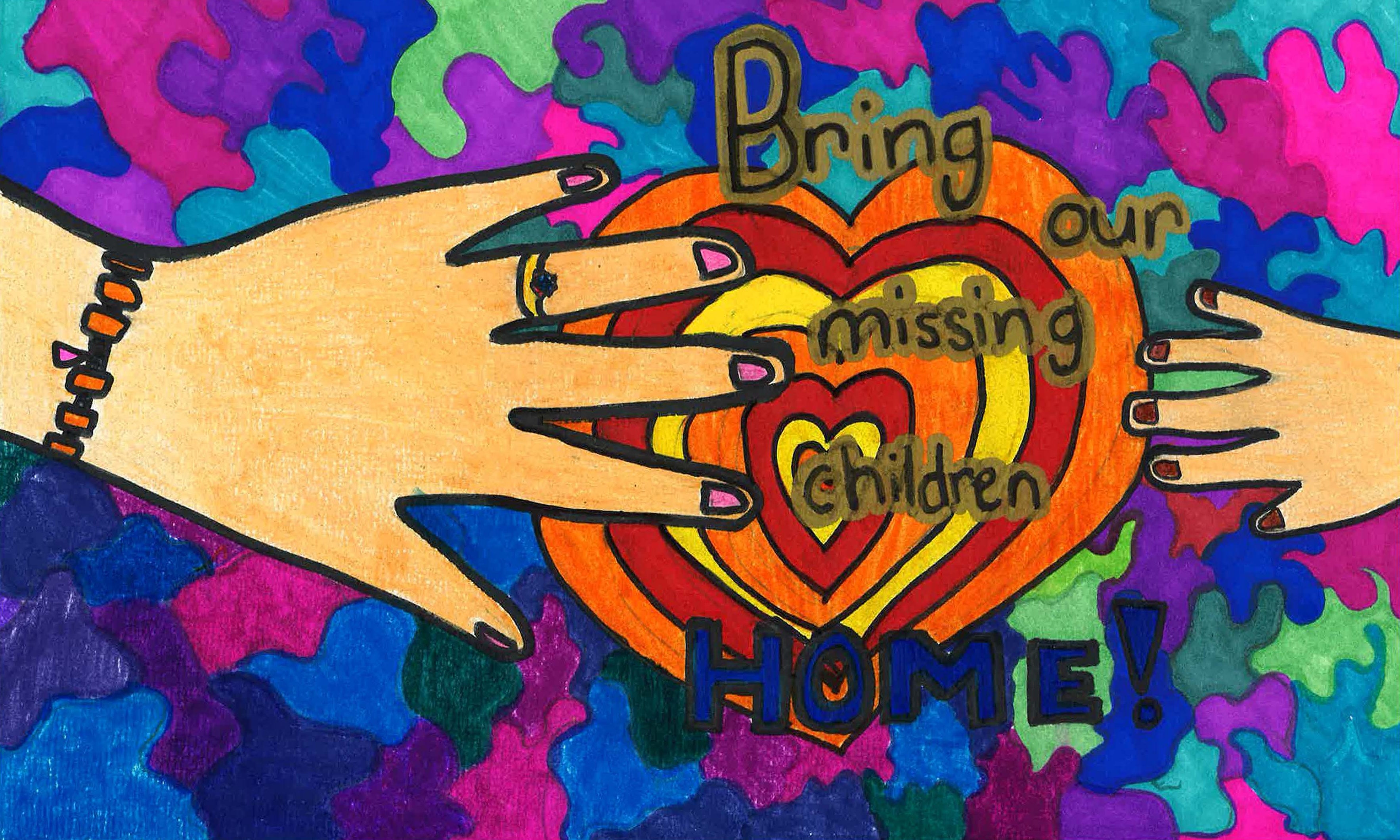 (Artwork by 2018 Nebraska Poster Contest Winner, Madison Mather of Kearney, Nebraska)
This year's first-place contest winner is Madison Mather from Kearney, Nebraska. As winner of the state contest, Madison's poster was submitted to a national competition with the U.S. Department of Justice.
Madison's Essay:
"My poster is about the struggle of being so close to finding your child but yet so far away. I used a combination of marker and permanent marker for my background. I started off darker in the bottom left corner and lighter in the top left is to show that you feel like all hope is lost until you regain your faith to search for your child. The heart represents how you never stop loving your child, no matter where they are. The hands are colored pencil and the heart was marker."
2nd Place Winner 

(Artwork by Maggie Mundorf of Kearney, Nebraska)
Maggie's Essay:
"I created my poster to bring awareness to "Bring Our Missing Children Home Day." I drew a mom and dad standing by their child who has just been reunited with them. In the background, I drew the family watching a beautiful sunset in the city. The stars are starting to come out, and the sky is lots of different colors. This picture captures the glorious moment of a once missing boy being with his parents again."
3rd Place Winner

(Artwork by Jennifer Hernandez of Omaha, Nebraska)
Jennifer's Essay:
"En mi poster habla de que hay una familia que esta triste, y la mamá se acuerda cuando tenian a su hijo y eran felices. De los pajaros desaparecieron sus huevos y estan tristes. Yo quiero que todos sepan que cuando una familia tiene a sus hijos y desaparecen se pone triste la familia y piden que regresen sus hijos. Ellos son más importante."
English: In my poster it explains how there is a family that is sad, the mom remembers when they had their son and they were happy. The bird's eggs disappeared, and they are also sad. I want everyone to know that when a family has their children and they go missing, the whole family gets upset and wishes for their children to come back home. They are very important to them.