Our children are the greatest gift and the greatest responsibility we have been given. We shepherd them with wisdom and care through their years as they mature from childhood through their teen years. Now more than ever, this navigation requires attentiveness on the part of parents. Parents need to understand the digital age and the technology it offers for learning and expanding their student's world. It is equally important for parents to understand this world can bring new challenges and potential hazards if improperly used. This page attempts to provide parents with an overview of the digital world and what they need to know in helping their child navigate the digital "highway" with safety and good judgement.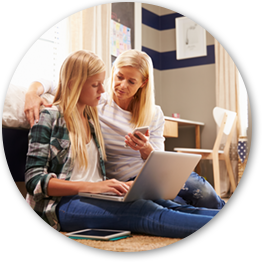 Talk to Your Kids About Cyberbullying
Tell your kids that they can't hide behind the words they type and the images they post. Bullying is a lose-lose situation. Hurtful messages not only make the target feel bad, but also make the sender look bad. Often they can bring scorn from peers and punishment from authorities.
Ask your kids to let you know if an online message or image makes them feel threatened or hurt. If you fear for your child's safety, contact the police.
Read the comments. Cyberbullying often involves mean-spirited comments. Check out your kid's page from time to time to see what you find.
Tips to Deal with Cyberbullying
Know what Actions to Take: If someone is harassing or threatening your child, encourage them to remove that person from their friends list, block their user name or email address, and report them to the site administrator. If your child finds a profile that was created or altered without his or her permission, contact the site to have it taken down.
Avoid Escalating the Situation: Responding with hostility is likely to provoke a bully.  Depending on the circumstances, consider ignoring the issue. If the bullying persists, share the record you keep with school officials or local law enforcement.
Document Cyberbullying (or other Unwanted Contact): If your child is a victim of cyberbullying, work with them to keep a record of any online activity (emails, web pages, social media posts, etc.), including relevant dates and times. Keep both an electronic copy and a printed copy.
Encourage your Child to be an Upstander: Talk to your child about standing up for their friends and classmates that are being bullied. Encourage them to speak up if someone is bullying a friend and stop untrue or harmful messages from spreading. Encourage them to report the situation to a trusted adult.
Educate your Children about the Consequences of Bullying: Explain that bullying not only harms the victim but also the bully.  Often, the bully will face scorn from peers and punishment from authorities.
Tips for Keeping Children Safe Online
Keep the computer in a central location in your home instead of in a bedroom or office, if possible.
Set up parental-control tools that allow you to block certain sites and filter content.  However, keep in mind that these programs are not a substitute for parental supervision and effective communication about the Internet.
Learn about what your child enjoys doing online.  Learn the slang so you can easily talk to them about their online activity.
Communicate with your child about the danger of meeting someone in person who they met online.  If you feel that a meeting is appropriate, accompany your child and meet in a public place.
Texting and Sexting
Sending or forwarding sexually explicit photos, videos, or messages from a mobile phone is known as "sexting." Tell your children not to do it. In addition to risking their reputation and their friendships, they could be breaking the law if they create, forward, or even save this kind of message. Teens may be less likely to make a bad choice if they know the consequences.  Photos posted online and sex offender labels are two things that never go away.
It May NOT be Private: Once you send the message or image, you do not control how it is shared.
Personal Reputation and Safety:  Socializing and sharing on-the-go can foster creativity and fun, but could cause problems related to personal reputation and safety. Use care when sharing photos and videos. Most mobile phones have camera and video capability, making it easy for children to capture and share every moment. Encourage children to get permission from the photographer or the person in the shot before posting videos or photos. It's easier to be smart upfront about what media they share than to do damage control later. Use good judgment with social networking from a mobile device. The filters you've installed on your home computer won't limit what children can do on a mobile device. Talk to your children about using good sense when they're social networking from their phones, too.
Encourage Manners: If your children are texting, encourage them to respect others. Texting shorthand can lead to misunderstandings. Tell them to think about how a text message might be read and be understood before they send it. It is easy to say something in texting that you would not have the courage to say to a person's face.  Sometimes, this means that it's better left unsaid.
Safeguard Privacy: Remind your children to ignore texts from people they don't know, learn how to block numbers from their cell phone, avoid posting their cell phone number online, and never provide personal or financial information in response to a text.
Social Media Privacy
Privacy Settings: Privacy and security settings exist for a reason. Make sure your children are aware of available privacy and security settings on their social media profile and discuss what should be a comfortable level of information sharing. Let them know that it's ok to limit how and with whom you share information.
Make Passwords Long, Strong and Unique: Talk to your children about the importance of a strong password. Combine capital and lowercase letters with numbers and symbols to create a more secure password.  Passwords are private information and not to be shared with friends.  
Know and Manage Friends: Your children's friends on social media should be people they know and trust. Some of the fun of social networks is creating a large pool of friends from many aspects of their life, but generally, a smaller group of known people is better. Make sure your children understand how to use tools to manage the information they share with friends in different groups or even on multiple online pages.
We're All in this Together:  Teach your children to be aware of how much information they share about other people.  All efforts to protect personal information can be useless if a careless friend shares too much.
Keep Personal Information Personal: Talk to your children about the risks of putting too much personal information online. The more information they post, the easier it may be for a hacker or someone else to use that information against them by stealing their identity, accessing their data, or committing crimes such as stalking.
Safer for Your Child, More Secure for All: What your children do online has the potential to affect everyone around them – their family, their classmates, and their community. Practicing good online habits benefits the global digital community.
Sextortion
Oftentimes, a perpetrator will obtain sexually explicit material from a victim and use this material to extort money or additional sexually explicit images.
How Sextortion Happens
Sextortion can happen a number of ways:
Secretly recording video chats
Pretending to be someone else
Hacking or using malware to control a victim's computer/webcam
Theft of personal electronic devices or online accounts
Tips to Protect Your Kids
Supervise your children's computer/mobile devices: Discuss smartphone usage with children and consider placing computers in public areas.
Discuss online activities: Encourage and initiate open discussions with your kids regarding all aspects of their online activities, positive and negative.
Encourage openness: Share the message with your kids that you want to know if anyone asks for sexually inappropriate images or anything that makes them feel uncomfortable.
Monitor apps: Since sextortion often occurs on phone/tablet apps, chat rooms, and social media accounts, talk with kids early about not sharing pictures with strangers and only befriending people online that they know in person.
Cover webcams: Cover webcams and turn off computers when they are not in use.
Never send compromising photos:  Tell children not to send compromising photos to anyone, regardless of who they claim to be.
If you believe you are a victim of sextortion, or know someone who is, call the Omaha FBI Office at (402) 493-8688 or contact the FBI online at https://www.ic3.gov/default.aspx.
Resources: 
FBI Video "What is Sextortion?"
FBI Stop Sextortion Brochure
National Center for Missing & Exploited Children Sextortion Webpage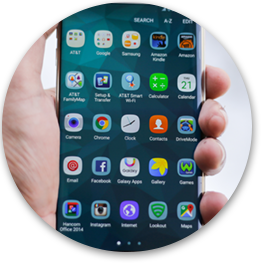 Apps
Do you — or your kids — download "apps" to a phone or social networking page? Downloading may give the app's developers access to personal information that's not related to the purpose of the app. The developers may share the information they collect with marketers or other companies. Suggest that your kids check the privacy policy and their privacy settings to see what information the app can access. And consider this: Is finding out which cartoon character you are really worth sharing the details of your life — or your children's? Learn more about Mobile Apps.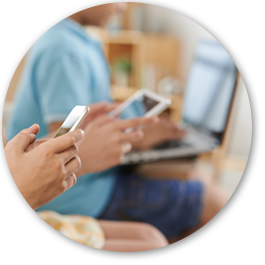 Teaching Computer Security
Talk to your kids about the following:
Protecting their personal information: Social Security numbers, account numbers, and passwords are examples of information to keep private.
Watching out for "free" stuff: Free games, ring tones, or other downloads can hide malware. Tell your kids not to download anything unless they trust the source and they've scanned it with security software.
Using strong email passwords and protect them: The longer the password, the harder it is to crack. Personal information, your login name, common words, or adjacent keys on the keyboard are not safe passwords. Kids can protect their passwords by not sharing them with anyone, including their friends.
As a parent, you have control over the personal information companies collect online from your kids under 13. The Children's Online Privacy Protection Act (COPPA) gives you tools to do that. The Federal Trade Commission, the nation's consumer protection agency, enforces the COPPA Rule. If a site or service is covered by COPPA, it has to get your consent before collecting personal information from your child and it has to honor your choices about how that information is used.
What is the Children's Online Privacy Protection Act (COPPA)?
The COPPA Rule was put in place to protect kids' personal information on websites and online services — including apps — that are directed to children under 13. The Rule also applies to a general audience site that knows it's collecting personal information from kids that age. 
COPPA requires those sites and services to notify parents directly and get their approval before they collect, use, or disclose a child's personal information. Personal information in the world of COPPA includes a kid's name, address, phone number or email address; their physical whereabouts; photos, videos and audio recordings of the child, and persistent identifiers, like IP addresses, that can be used to track a child's activities over time and across different websites and online services.
Does COPPA affect the sites and services my kids use?
If the site or service doesn't collect your child's personal information, COPPA is not a factor. COPPA kicks in only when sites covered by the Rule collect certain personal information from your kids. Practically speaking, COPPA puts you in charge of your child's personal information.
COPPA works like this: Let's say your child wants to use features on a site or download an app that collects their personal information. Before they can, you should get a plain language notice about what information the site will collect, how it will use it, and how you can provide your consent. For example, you may get an email from a company letting you know your child has started the process for signing up for a site or service that requires your child to give personal information. Or you may get that notice on the screen where you can consent to the collection of your child's personal information.
The notice should link to a privacy policy that's also plain to read — and in language that's easy to understand. The privacy policy must give details about the kind of information the site collects, and what it might do with the information — say, if it plans to use the information to target advertising to a child or give or sell the information to other companies. In addition, the policy should state that those other companies have agreed to keep the information safe and confidential, and how to contact someone who can answer your questions.
That notice also should have directions on how to give your consent. Sites and services have some flexibility in how to do that. For example, some may ask you to send back a permission slip. Others may have a toll-free number you can call.
If you agree to let the site or service collect personal information from your child, it has a legal obligation to keep it secure.   
The first choice is whether you're comfortable with the site's information practices. Start by reading how the company plans to use your child's information. 
Then, it's about how much consent you want to give. For example, you might give the company permission to collect your child's personal information, but not allow it to share that information with others. 
Once you give a site or service permission to collect personal information from your child, you're still in control. As the parent, you have the right to review the information collected about your child. If you ask to see the information, keep in mind that website operators need to make sure you are the parent before providing you access. You also have the right to retract your consent any time, and to have any information collected about your child deleted.
What if it looks like a site or service is breaking the rules?
If you think a site has collected information from your kids or marketed to them in a way that violates the law, report it to the FTC at ftc.gov/complaint.