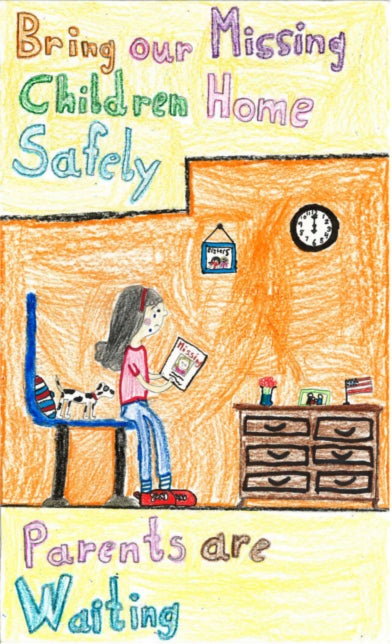 (Artwork by 2017 Nebraska Poster Contest Winner, Shelby Steele of North Platte, Nebraska)
We are pleased to invite all Nebraska 5th grade students to recognize National Missing Children's Day by participating in the Nebraska 2018 Missing Children's Day poster contest.  The theme of the contest is, "Bring Our Missing Children Home". The winning poster of the Nebraska poster contest will be entered into the U.S. Department of Justice's poster contest.  The national winner will be invited to Washington, D.C. to participate in the U.S. DOJ's National Missing Children's Day ceremony on May 23, 2018. The winner will also receive a national award certificate and a professional print of their poster.
The deadline to enter the Nebraska contest is February 9, 2018.
Please submit contest entries to:
Nebraska Attorney General's Office
Attention: Jennifer Brehm, Contest Manager
2115 State Capitol, PO Box 98920
Lincoln, NE 68509
Contest Rules
Applicants must be in the fifth grade.

Artwork should reflect the theme "Bring Our Missing Children Home." This phrase must appear somewhere on the poster. The theme may be depicted in the students' artwork through one illustration or a combination of illustrations (e.g., signs and symbols, people, abstract, industry, wildlife, etc.)

The theme must be depicted visually and can be created using media such as acrylics, watercolor, pencils, charcoal, magic markers, spray paint, crayons, and pastels. Digitally produced images, collages, cut-outs, and stamping will not be eligible for consideration.

The finished poster must measure 8½ x 14 inches.

The poster must be submitted with a completed application, which includes a description of the poster, a brief biography of the artist, state consent and release form, and national consent and release form.

Complete information regarding the poster contest can also be found at http://ojjdp.gov/programs/postercontest.